Button Cutters - Series #3
.812 - 1.500 Dia. Endmill Style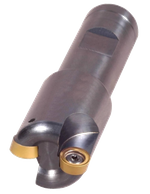 - Radial chip thinning allows for higher feed rates
- Extremely free cutting positive top inserts
- Ground & molded inserts available
- multiple grades available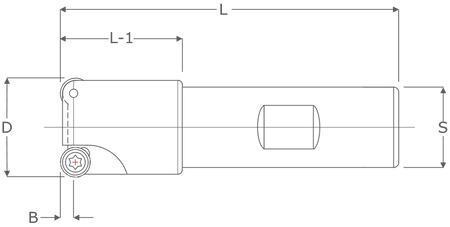 Tool Info.
Series #3 Button Cutters

Tool #
D
B
Flutes
L
L-1
S
Plunge
Ramp
Ground Inserts
Molded Inserts
Screw
Wrench

BC3-812L
.812
.187
2
4.750
2.500
1.000
.025
5°
RCEB-325G
RCEB-325
538T
T-10

BC3-812XL
.812
.187
2
6.375
4.125
1.000
.025
5°

BC3-1000
1.000
.187
2
3.500
1.500
.750
.040
5°

BC3-1000L
1.000
.187
2
5.250
3.000
1.000
.040
5°

BC3-1000XL
1.000
.187
2
7.250
5.000
1.000
.040
5°

BC3-1500L
1.500
.187
2
6.750
4.500
1.250
.065
4°

BC3-1500XL
1.500
.187
2
10.187
7.500
1.500
.065
4°
<![if supportMisalignedColumns]> <![endif]>
Ground Inserts
Ground inserts will reduce tool pressure & provide a better finish over molded inserts.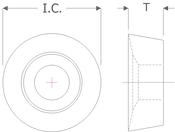 Insert Info.
.375 I.C. - Ground
Insert #
I.C.
T
Grades
RCEB-325G
.375
.156
B1M

/

X33

/

X40
<![if supportMisalignedColumns]> <![endif]>
Molded Inserts
Molded round inserts will provide reduced cutting pressure over a square shoulder mill without the cost of a ground insert.
Insert Info.
.375 I.C. - Molded
Insert #
I.C.
T
Grades
RCEB-325
.375
.156
X33 / A10M
<![if supportMisalignedColumns]> <![endif]>
Speed and Feed Info.
Series #3 Button Cutters
Material
S.F.M.
I.P.T.
Mild & Low Carbon Steel
Ex. 1018, 1020, 1117, 1141, 12L14
800 - 1200
.003 - .012
High Carbon & Alloy Steel
Ex. 1045, 4140, 4340, 52100, 8620
500 - 800
.003 - .010
Lower Carbon Tool Steel
Ex. P-20, H-13, S-7
400 - 700
.003 - .010
Tool Steel
Ex. A-2, A-6, D-2, M-2
300 - 600

.003 - .010
Stainless Steel
Ex. 304, 316, 420, 15-5PH, 17-4PH
300 - 600

.002 - .007
Iron
Ex. Cast, Ductile, Nodular
600 - 1000
.004 - .012
Nickel & Titanium Alloy
Ex. Inconel, Hastelloy, TI-6AL-4V
120 - 180
.001 - .004
Non-Ferrous Metal
Ex. Aluminum, Bronze, Brass
1000 - 2500
.004 - .014
<![if supportMisalignedColumns]> <![endif]>
Insert Grade Selection


RCEB ( Ground Inserts )
Material
Material Examples
Preferred Grade
High & Low Carbon Steels
1018, 1020, 1117, 1141, 12L14
X33
High Carbon & Alloy Steels
1045, 4140, 4340, 52100, 8620
X33
Lower Carbon Tool Steels
P-20, H-13, S-7
X33
Tool Steels
A-2, A-6, D-2, M-2
X33
Stainless Steels
303, 304, 316, 420, 15-5PH, 17-4PH
X33
Iron
Cast, Nodular

X33
Iron

Ductile
X33
Nickel & Titanium Alloys
Inconel, Hastelloy, TI-6AL-4V
X33
Non-Ferrous Metals
Aluminum, Bronze, Brass
X40 / B1M

<![if supportMisalignedColumns]> <![endif]>
Insert Grade Selection
RCEB ( Molded Inserts )

Material
Material Examples
Preferred Grade
High & Low Carbon Steels
1018, 1020, 1117, 1141, 12L14
X33 / A10M
High Carbon & Alloy Steels
1045, 4140, 4340, 52100, 8620
X33 / A10M
Lower Carbon Tool Steels
P-20, H-13, S-7
X33 / A10M
Tool Steels
A-2, A-6, D-2, M-2
X33 / A10M
Stainless Steels
303, 304, 316, 420, 15-5PH, 17-4PH
X33 / A10M
Iron
Cast, Nodular
X33 / A10M
Iron

Ductile
X33 / A10M
Nickel & Titanium Alloys
Inconel, Hastelloy, TI-6AL-4V
X33 / A10M
Non-Ferrous Metals
Aluminum, Bronze, Brass
X33 / A10M
<![if supportMisalignedColumns]> <![endif]>
Insert Grade Description


RCEB Inserts

Grade
Description
A10M
TIALN / TIN Coated Carbide

X33
High Performance Nitride Coating

B1M
Uncoated Carbide - No Hone
X40
Extremely Smooth Boride Coating
<![if supportMisalignedColumns]> <![endif]>